Welcome to Fields Chrysler Jeep Dodge Ram's Express Lane!

Hours of Operation

Monday - Friday:
7am to 8:30pm

Saturday:
7am to 4pm

Sunday:
Closed

WE SERVICE ALL MAKES AND MODELS!

NO APPOINTMENT NEEDED!





At Fields Chrysler Jeep Dodge Ram, we know that your time is very important to you. That is why we are proud to provide you with an Express ServiceLane to take care of your vehicle's basic needs fast, and get you back on the road in no time!


EXPRESS SERVICES WE PROVIDE:

- Lube, Oil and Filter Change
- Tire Rotation
- Air Filter Change
- Head and Tail Light Replacement
- Battery Test and Replacement
- Wiper Blade Replacement

Every Express Service Includes a FREE 29-Point Inspection

We check your battery, drive belt, air filter, steering/suspension/shocks/struts, front and rear differential, transfer case, exhaust system, all 4 tire treads, front and left break pads, left and right axle boots, front and rear lights, and left and right wipers.

We top-off your motor oil, coolant, power steering fluid, transmission fluid, washer fluid, and air on all 4 tire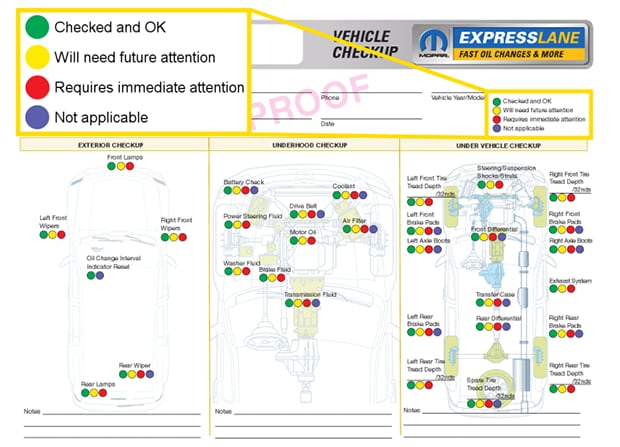 Come visit our Express Lane today! Click here >

or use the contact for on the right of this page to make an appointment.